We are sorry to inform you that the following dates will be closed for summer holidays. 【Summer vacation】 August 11, 2023  to 16  We apologize for the inconvenience and appreciate your understanding.-Notice about shipping products before and after the summer holidays-We accept orders from the online shop at any time during holidays, but shipping may be delayed than usual.. Thank you for your understanding. Tsutsumi Asakichi Urushi Shop
---
Thank you very much for your hard work.We will be closed for New Year holidays from December 29th to January 4th.We are still accepting orders from the online shop at any time even during the holidays, but we would like to ship them at any time after January 5th. Thank you for your understanding.  
---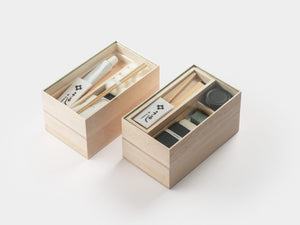 This time, a new overseas kit has been completed.The name is "Urushino ippo KIT"We started the 『Urushino Ippo 』project in 2016 with the desire to let many people outside the circle of crafts know about urushi(Natural Lacquer).And in 2022, a new kit was born to spread that feeling overseas. It is produced so that many people can experience the fun and tradition of Japanese manufacturing. The design concept is "Makunouchi Bento"Depending on the application, such as wiping urushi or kintsugi, separate boxes are prepared and can be stacked and stored like heavy weights.You can also make the main body a...
---
The award is presented by one of Europe's leading wine organizations. This award is sponsored by primumfamiliaevini , a group of 12 of Europe's leading wine producers, and is given to the best family-owned businesses in the world that have been working on family projects for generations, with a focus on excellence and positive values that the PFV wishes to encourage. ▼PFV Award - FAMILY IS SUSTAINABILITY WEB SITE https://www.thepfvprize.com/#about In February, the 12 PFV families will gather to determine the winners of the PFV Awards from these five companies.The results will be announced in March 2022.I hope to keep...
---
An article written by Sachiko Matsuyama of monomo was written and published in Garland, an Australian craft culture magazine. Photo by Ryan Jones She talks about our collaboration with Australian surfboard shaper legend Tom Wegner. The sense of crisis and hope that we have around Urushi, and our past activities and efforts with sympathetic friends such as video producer Shin Aoki.Click here to read the article■Writer's ProfileSachiko Matsuyama, Producer and Representative of monomoSachiko Matsuyama established monomo in 2014 with the aim of sharing Japan's rich craft culture with the world. She visits artisans throughout Japan who are involved in handicrafts that...